People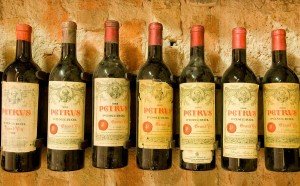 History
Petrus takes its name from the Greek version of St. Peter, "Petros."
Owned by the Arnaud family for the better part of 200 years until the end of World War II, Petrus was then sold to Mme. Loubat, who had progressively acquired the property since 1923. Upon her death in 1961, the estate was passed to her family, who eventually sold it to Jean-Pierre Moueix.
Jean-Francois Moueix and his children - including Jean Moueix - are the owners of Petrus today.
Directors
Situated in Libourne along the Dordogne River, the Etablissements Jean-Pierre Moueix, founded in 1937, is internationally known for its expertise in the Bordeaux wines of Pomerol and Saint-Emilion. Ets. Jean-Pierre Moueix plays several different roles: as an owner/manager, as a distributor/exporter, and as a generic wine producer.
Initially established by Jean-Pierre Moueix, the company is now directed by second son, Christian, who runs the family business alongside his children, Edouard and Charlotte.