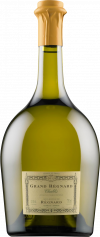 Overview
Régnard, one of the oldest and most prestigious houses in Chablis, was founded in 1860 by Zéphir Régnard. In 1984, Baron Patrick de Ladoucette purchased Régnard and has perpetuated the style and tradition of the wines ever since. The Grand Régnard is made from a selection of the best vineyards in Chablis. The bottle is modeled after an old 17th century bottle.
Winemaking
Having chosen parcels of land in Chablis for their excellent position and with 30 year old plus vines, this cuvée produces each year, in a limited quantity, a beautifully fruity, round and elegant wine typical of a young Chablis.
A slow alcoholic fermentation in stainless steel vats regulated to a temperature of 18°C. The oenologist then decides when to blend the wine used to create this cuvée. The wine is then clarified before being bottled.
Tasting Notes
A yellow color with green highlights. A fruity bouquet both expressive and reminiscent of white fruit (peaches) supported with mineral notes. The palate is fresh and superbly balanced between fat and acidity. The finish is mineral and gourmand.
Technical Information
Varietals: 100% Chardonnay