People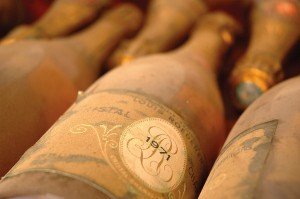 History
Initially founded as Dubois Père & Fils in 1776, Louis Roederer inherited the company from his uncle in 1833, renamed it eponymously, and set out to target markets abroad. With concentrated efforts in several countries, including Russia, Tsar Nicholas II nominated Louis Roederer as the official wine supplier to the Imperial Court of Russia.
Jean-Claude Rouzaud, grandson of Camille Olry Roederer, inherited the business in 1979. His son, Frédéric Rouzaud, has been at the helm of the company since 2006.
Champagne Louis Roederer remains one of the few family-owned independent champagne houses today.
Directors
Frédéric Rouzaud | President
As a direct descendant of Louis Roederer, you might say that Frédéric Rouzaud has Champagne in his blood. Although he developed a passion for the vineyards at an early age, Frédéric first sought to gain experience outside of the family business. A graduate in Business Administration from the renowned Université de Paris-Dauphine, he spent five years developing his expertise in wine property transactions at a leading French realty firm.
He joined the family business in 1996 as Regional Manager and rose through the ranks to become Manager of Human Resources and then General Manager Delegate in charge of development. In January 2006, Frédéric succeeded his father Jean-Claude Rouzaud as President & CEO of the Champagne Louis Roederer Group. Today, Frédéric is the driving force of all Champagne Louis Roederer's flagship companies: Champagne Louis Roederer; Delas Frères in the Rhône Valley; Château Pichon Longueville Comtesse de Lalande, Château de Pez and Château Haut-Beauséjour in Bordeaux; Ramos Pinto in Portugal; Domaines Ott in Provence; and Roederer Estate, Scharffenberger Cellars and Domaine Anderson in California.
Winemaker
Jean-Baptiste Lecaillon
Jean-Baptiste Lecaillon grew up in Reims surrounded by the world of Champagne. At a very young age, he developed a passion for Champagne and its development. He was naturally drawn to viticulture and oenology to study vine growing and oenology at the École Nationale Supérieure d'Agronomie of Montpellier.
Jean-Baptiste Lecaillon joined Champagne Louis Roederer in August 1989 and spent some time at Roederer Estate, in California's Anderson Valley.
After a year in California, he returned to Champagne to survey Roederer's 1990 harvest. In October of 1990, Jean-Baptiste Lecaillon left for Australia where he managed a subsidiary company of Champagne Louis Roederer until December 1993.
In 1994, Jean-Baptiste Lecaillon returned to Reims where he has an ever-increasing role in the making of the Louis Roederer champagnes. Simultaneously, he ensures the development of the Roederer-owned Bordeaux properties: Château de Pez, Château Haut-Beauséjour and more recently Château Pichon Longueville Comtesse de Lalande.
In 1999, he was appointed Chef de Cave at Champagne Louis Roederer. Since 2006, he is Executive Vice-President in charge of the production of all the Roederer properties.