People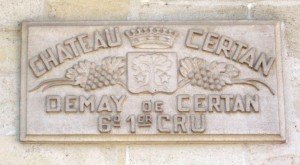 History
The origins of Château Certan de May date back to the very beginnings of Pomerol. The de May family, who settled in France from Scotland in the Middle Ages, were gifted the property by royal decree in the 16th century as a gesture of thanks for services rendered to the crown of France. The estate began producing wine in the 18th century and was managed by descendants of the de May de Certans until 1925, when it passed to the Barreau family.
Directors
After the death of the last de May in 1925, the estate came to the Barreau-Badar family, the present day owners. It is currently managed by Jean-Luc Barreau.
Owner Jean-Luc Barreau applies all of his care and attention to producing a wine in the great tradition of his forebears. Vinified under the guidance of renowned consultant Jean-Claude Berrouet since the 2013 vintage, Château Certan de May benefits from the best winemaking know-how. The wine is rich, powerful, complex; while it can be enjoyed after a few years of cellaring, its structure and natural depth lend it great ageability.