Vineyard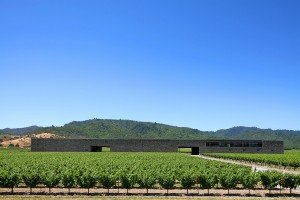 Napanook Vineyard
Napanook is a historic vineyard that dates back to 1836 and is the oldest in the Napa Valley. The vineyard is a total of 124 acres with each parcel vinified separately. The Napanook vineyard's volcanic, well-draining soils are specifically suited to growing cabernet sauvignon and the other Bordeaux varietals, which compose the Dominus Estate wines.
The Architecture of Dominus
Dominus' winery is the first project realized in the United States by the design architects, Jacques Herzog and Pierre de Meuron. Based in Basel, Switzerland, they are well-known for their numerous European projects, including the London Tate Gallery's new Bankside facilities.
Set back in the vineyard, the dark green basalt rock building integrates into the landscape. It is a linear construction 462 feet)long, 82 feet wide and 27 feet high. The exterior is composed of walls of gabions, which are essentially galvanized baskets containing stones. Commonly round retaining river banks or earthwalls, this application as a building's exterior facade is unique and provides protection from the scorching heat by day and the cold at night. The baskets have no 'mortar' and the spaces between the rocks act as a 'filigree,' allowing the passage of natural light into the rooms during the day and artificial light to radiate out at night.