Story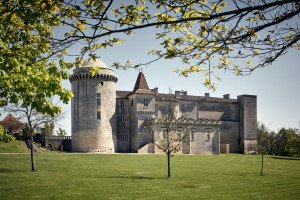 History
Château Peymouton is part of the estate of Château Laroque, a historic Grand Cru Classé of Saint‐Émilion located just 3.5 km east of the medieval village.
Château Laroque, one of the largest estates of the appellation, dates back to the 12th century. Thanks to its strategic position atop a limestone plateau overlooking the Dordogne river valley, it then acted as a key defensive stronghold to the nearby village. The vineyard itself was planted in the 18th century. The Beaumartin family acquired the property in 1935, and, in the 1960s, began modernizing the vineyard and winemaking facilities.
In 1996, Château Laroque was granted Grand Cru Classé status for 66 acres of its vineyard while the remaining 76 acres gave birth to a new wine: Château Peymouton, Saint‐Émilion Grand Cru.
Château Peymouton is represented by Établissements Jean-Pierre Moueix, a wine merchant with exclusive distribution rights of over twenty eminent Right Bank châteaux. These exclusivities, which are renowned for the quality of their wines, represent relationships nurtured over the course of many years.