Story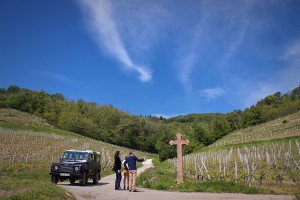 A Family Tradition
The vineyards of Domaines Schlumberger were originally planted by the Romans and were later controlled by the Prince Abbotts of Murbach, an order of monks who established their seat at the town of Guebwiller in the southern end of Alsace. When the estates of the Abbey were put up for sale after the French Revolution, a local mill owner named Nicolas Schlumberger purchased 50 acres.
Founded by Nicolas Schlumberger in 1810, Domaines Schlumberger produce 100% estate-bottled wines from southern Alsace. Today, the 6th and 7th generations carry on the family tradition.
The Schlumberger vineyards are the largest in Alsace, and one of the largest blocks of contiguous vineyards in France. The domaine also has the distinction of owning the largest acreage of Alsace grand cru vineyards, and references to the famous blocks of Kessler, Kitterle and Saering date back to ancient Roman times.
These impressive holdings are the result of efforts devoted over six successive generations of the Schlumberger family. Many growers gave up their property in the late 1800s as they became involved in industrial and commercial activities, leaving the vines to languish untended. In the beginning of the 20th century, phylloxera further ravaged the vineyards, and war completed the devastation.
In 1911, Ernest Schlumberger undertook the rebuilding of not only the familial vineyards, but the whole of Guebwiller. Over the years, he pieced together more than 2,500 parcels abandoned by their owners. In time, the small domaines grew from an original 50 acres to its present 300 acres. Schlumberger wines are made exclusively from grapes grown in these estate vineyards.