Vineyard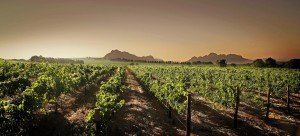 Vineyard Overview
Fleur du Cap's grapes are meticulously selected from exceptional Cape Coastal region vineyards. The south-easterly breezes and healthy rainfalls of the Mediterranean climate produce outstanding fruit. The winemakers' contemporary style of crushing and fermenting the grapes captures and reflects the desired varietal character and terroir qualities.
The initial rootstock for these wines was planted in 1700 and there is now a rootstock mother plantation housing about 11,000 phylloxera-free rootstock vines.
The climate is mild with south- and east-facing slopes offering protection against late afternoon sun.
Cooling breezes both from the Atlantic and Indian Oceans ensure rich, slow-growing crops.
Fleur du Cap Rootstock Mother Plantation
Today Fleur du Cap houses a rootstock mother plantation where about 11,000 rootstock vines are located, providing phylloxera-free root material onto which selected clone material is grafted as the first stage in the making of the Fleur du Cap wines.
These grafted vines are planted out in selected vineyard sites in the Coastal Region. The sites were selected to ensure optimum conditions regarding soils, climatic conditions and location.