People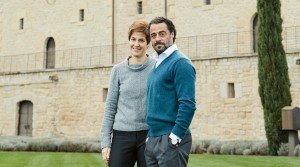 Owner
Vicente Dalmau Cebrián-Sagarriga was born in Madrid as the oldest and only son of four children between Vicente Cebrián-Sagarriga and Chus Suarez-Llanos, Counts of Creixell.
Growing up, Vicente split his time between Madrid and Galicia. He spent his summers at Pazo de Barrantes, an old country house owned by his family since the sixteenth century. These formative years spent in Galicia, combined with his family's ties to the region, developed a connection that would prove instrumental later in his life.
With a British education in Madrid, English soon became a second language for him, improving it with every trip to the United States. In 1986, Vicente moved to the Ygay Estate in La Rioja, where his father owned the Marqués de Murrieta winery. Upon completion of a double degree in economics and business law, he began working for the export departments at Marqués de Murrieta and Pazo de Barrantes. A constant traveler, his interests and perseverance lead him to develop an important role in the world of wine at a very early age.
The early and unexpected death of his father in 1996 incited Vicente to take charge and start a wine revolution both in Rioja and in Rías Baixas. That year, he became President of Marqués de Murrieta Estates & Wines. Since 1996, Vicente and his sister Cristina have completely updated the historic Marqués de Murrieta winery, and have developed an important export network crucial to the worldwide distribution of the family's wines. His bold vision, combined with a deep knowledge of the business and oenological world, connect him with the past and present of the wineries he manages.
The complete renovation of Rioja's first winery, as Marqués de Murrieta is sometimes called, has completely raised the bar in terms of prestige, winemaking excellence, and youthful vision. Vicente has also managed to revive Galician winery Pazo de Barrantes with the same work ethic, becoming the benchmark for Albariño wines around the world.
Winemaker
María Vargas is one of the highest-profile winemakers in Spain, and very much been a part of Pazo de Barrante's evolution. She joined the winery as assistant winemaker in 1995, and took over the top position in 2000. Vargas is a brilliant blender as well as a sensitive winemaker, adept at combining the 30 acres of vineyards to make exceptional wines with character and quality.