Vineyard
Vineyard Overview
The property is located in the northwestern part of Montalcino and extends over 5,000 acres of woods, meadows, vineyards, and olive groves. The vineyards include 150 acres of premium sangiovese grapes, handpicked by farmers since the 18th century. Along with the magnificent estate in Montalcino, Castiglion del Bosco owns a beautiful vineyard in Riparbella, by the Tuscan coast, where Prima Pietra has been produced since 2007.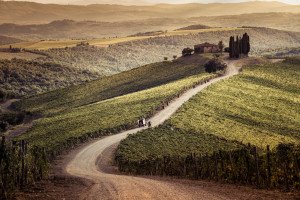 The Vineyards of Castiglion del Bosco
Castiglion del Bosco has two separate vineyard sites in Montalcino, the 50-acre Gauggiole vineyard, just beneath the Borgo, and the larger 100-acre Capanna. The latter is 'The Vineyard' of the estate, a single parcel that winds along the ridge of the hill like an enormous river of green.
Capanna
This larger vineyard faces southwest, at elevations that begin at 1,150 feet and reach over 1,500. Devoted exclusively to Brunello production, it is subdivided into separate parcels, beginning with Campo del Drago at the top of the hill and extending down to the foot of the slope. The influences of the sea are felt in this area with hot, dry summers and constant winds that remove moisture. The richness of the "galestro" stone in the soil gives the wine its unique aroma, complexity and structure.
Gauggiole
On the northern side of the estate at a height of over 800 feet, this vineyard is mainly dedicated to the production of Rosso di Montalcino. It is characterized by a medium soil, mostly clay, with a hot, dry summer microclimate and wetter conditions in winter and spring. These are the ideal conditions for a fresh, fruity, aromatic sangiovese wine.