People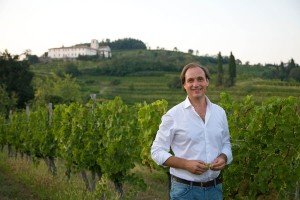 Owner
At the crossroads of the Italian, Slavic and Germanic worlds, the Friuli region has a unique history, cuisine and grape varieties. Andrea Felluga, by heritage and by character, is an ideal ambassador for the region and for the Livio Felluga winery. A talented raconteur, he is also a fact-hound with a passion and interest in travel. He loves his two dogs Mafalda and Gilda; Mafalda is a world traveler, like Andrea, coming from a breeder on Lexington Avenue in NYC which is over 4000 miles to the estate in Friuli.
Andrea knows his wines, not from textbooks or formal instruction, but through an on-the-job apprenticeship that began as a child, raised on the vineyard his father founded. Much of Andrea's training came from his father, Livio.
In 1994, the generational hand-over took place as that year represented the first vintage that Andrea was completely responsible for. His mother gifted him with a sturdy pair of work boots, which he continues to wear for each harvest.
Winemaking is not a career for the impatient! Like his father before him, Andrea now knows the land inch by inch, but it has taken a lifetime. "The chain of quality doesn't allow for a weak link" is one of his favorite sayings.
This perfectionism is the product of a combined team effort. In addition to Andrea, older brother Maurizio handles domestic sales; younger brother Filippo works closely with Andrea overseeing the vineyards management; sister Elda oversees the tourism promotion.