Vineyard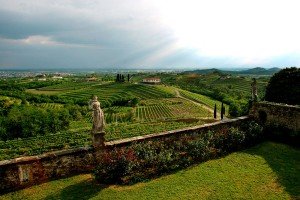 Friuli Venezia Giulia
A cultural crossroads where all sides of Europe meet, the Friuli Venezia Giulia region borders Austria to the north, Slovenia to the east, Veneto to the west and the Adriatic Sea to the south.
"My first encounter with hillside wines, and the wines of the Collio in particular, took place when I moved to Friuli in the late 1930s. I was entranced by the gentle slopes and the Collio villages, which at that time had names like Medana, Cosana and San Martin di Quisca. My knowledge of hillside wines grew and I became increasingly convinced that "premium-quality wine is made first in the vineyard and then in the cellar."
- Livio Felluga
Hill Country
In Friuli, and far beyond this special land of very special people and wines, the name Livio Felluga is synonymous with all that is best in the oenological heritage.
In the 1950s, Livio set up the cellar at Brazzano, sealing his love for the hill country with the far-sighted purchase of the first Felluga vineyards at Rosazzo. Today, the Livio Felluga estate extends over 400 acres of hill country in the Collio and Colli Orientali del Friuli, with more than 380 acres planted to vine. The soils, composed mainly of a sandy-clay-marl, firm and rich in minerals, are home to vineyards which yield exclusively great wines with instantly recognisable fragrances and aromas.