Vineyard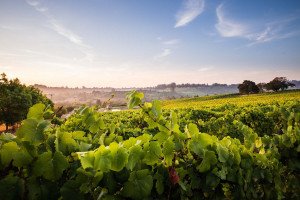 Vineyards
Merry Edwards was among the first California winemakers to embrace the importance of clonal selection and firmly believed that site-specific, terroir-driven viticulture was the only way to achieve broad success. Merry had begun her quest to acquire complete control over the winemaking process in 1996, when she purchased land in the Sebastopol Hills of Russian River Valley that would become the winery's premier single-vineyard Pinot Noir bottling, Meredith Estate.
Over two decades, as Merry assembled this stellar collection of vineyards, she employed meticulous attention to detail to become known for crafting Pinot Noirs of immense depth, elegant structure and exceptional longevity. Now, with 80 acres of estate vineyards in Russian River Valley, Merry Edwards Winery's single-vineyard Pinot Noirs are still produced with the same respect for the land and using the site-specific viticulture adhered to by Merry herself.
Meredith Estate Vineyard | Russian River Valley
In 1996, Merry Edwards purchased this 24-acre site, an abandoned apple orchard southwest of the Sebastopol city limits. Two years later, she converted the entire parcel to Pinot Noir. Meredith Estate vineyard grows in an area known locally as the Sebastopol Hills. On this cool southern edge of Russian River Valley, summer fog shrouds the area, typically until midday. Vine growth is carefully monitored, with a dedicated vineyard crew positioning shoots and thinning the crop three to four times each growing season. They determine irrigation requirements by measuring precisely the moisture content of the grape leaves. Stewardship of the land includes the use of sustainable, renewable farming practices. A cover crop perennially reseeds itself between the vine rows, reducing erosion of the steep, sloping terrain and supporting beneficial insect populations. Natural amendments, including grape pomace and mushroom compost, replenish the soil with valuable micronutrients. Owl boxes and hawk perches encourage natural control of rodents and other pests.
Coopersmith Vineyard | Russian River Valley
Merry Edwards and her husband, Ken Coopersmith, purchased the 9.5-acre apple orchard in 1999. They planted this Russian River Valley vineyard to Pinot Noir in the summer of 2001. The original vines included 50 percent Dijon 828, which turned out to be a poor match for this terroir. By 2008, the conversion was completed to 100 percent of the highly successful UCD37, aka Merry's clone. Practicing sustainable farming, we pamper these vines with micronutrients derived from timed applications of organic oak-based mushroom compost, provided by neighbor Gourmet Mushrooms. Originally the home of Haven Best's organic apples, the site proved its potential from the very first bottling in 2004.
Georganne Vineyard | Russian River Valley
In 2006, they further broadened their estate family of properties by signing a 30-year lease for a 7-acre property on Westside Road, in the northern Middle Reach area of the RRV. They planted the vineyard that same year, combining their two middle names for its designation, Georganne. The inaugural vintage of this wine was 2009. Their expanding portfolio captures more of the appellation's distinct personalities and underscores Merry and Ken's focus on winegrowing and dedication to crafting the highest level of quality.
Flax Vineyard | Russian River Valley
Resolutely moving toward an estate model, more long-term leases were formulated. An additional 16-acre neighboring vineyard and land has been annexed into Meredith. Warren's Hill was taken over in 2008 and subsequently replanted and renamed in 2010. Flax was adopted in 2009. In 2015 Merry and Ken planted 10 acres at their new home ranch in the Sebastopol Hills. This now brings the total of farmed acres of Pinot to 64. "Growing our own grapes gives us the control necessary to guarantee our customers a portfolio of single-vineyard Pinot Noirs that express, vintage after vintage, consistent personality and quality," Merry says.
Olivet Lane | Russian River Valley
Located on western benchland of the Santa Rosa Plain, Olivet Lane produces grapes coveted by the finest winemakers in Sonoma County. This heritage property is one of the oldest existing Pinot vineyards in the appellation and has been widely recognized as a prime example of the classic style of Russian River Valley Pinot Noir and Chardonnay. In 1973, the Pellegrini family purchased 65 acres of apple, prune and olive orchards on West Olivet Lane. At the recommendation of Dr. Amand Kasimatis at UC Davis, they planted Pinot Noir and Chardonnay in 1975, developing one of the first vineyards in the region devoted exclusively to these two varieties. The land has well-drained, gravelly, clay loam soil and a cool Region I climate.