Winemaking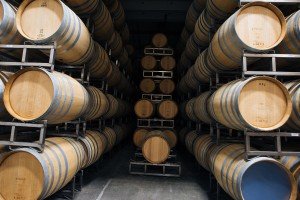 Winemaking
"The wines are 75 percent made when the grapes arrive at the winery door. My job is just to not screw things up!"
- Merry Edwards
In the winery, all Pinot fermentation tanks are open-top, but fully convertible to closed-topped tanks for blending and storage. Each tank is heated and cooled at the flip of a switch so that proper cold soaking, warming prior to yeast inoculation and any desired extended maceration can be achieved.
Punch downs by hand have evolved to a unique, pneumatic stainless steel foot operated by a joy stick. This allows repeatable, consistent and thorough management of the fermenting Pinot Noir cap. All of the color, flavor and tannins so carefully vine grown can then be captured by full extraction. Gentle handling is the watchword throughout the entire winemaking process.
The commitment to barrel ferment 100% of the Sauvignon Blanc continues. This allows for an intensive, twice-weekly lees stirring, body-building regime. Like her Pinot, this wine ages solely in French oak cooperage, 18 percent new. Bottling is delayed until April of the year following the vintage in order to allow full development of the wine's rich character.
A small quantity of barrel fermented Chardonnay is produced from the celebrated, mature planting at Olivet Lane. Late Harvest Sauvignon Blanc is produced when growing conditions permit. On occasion a late-disgorged, barrel fermented style of sparkling wine is produced, which requires seven years from grape to release.