Vineyard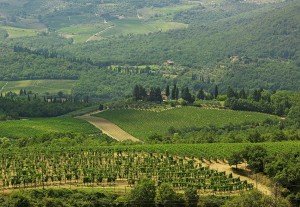 Vineyard Overview
With over 183 acres of prime Chianti Classico vineyards—located in the communes of Greve, Radda and Gaiole—and 79 acres in Maremma on Tuscany's southern coast, Querciabella represents the largest extension of vegan (certified organic) vineyards in Italy.
Since its beginnings in 1974 in the high village of Ruffoli on the hillside above Greve in Chianti, the winery has gradually expanded its holdings across Chianti Classico. Each site is surrounded by oak forests and olive groves whose presence not only adds to the abundant biodiversity found there but also offers protection against cross-contamination from conventional farms.
Amidst Maremma's untamed wilderness, the Querciabella estate in Alberese borders the Uccellina Natural Park, a fraction of Grosseto. The first vineyards were planted in 2000 to Sangiovese along with International varietals Merlot, Cabernet Sauvignon, Syrah and Cabernet Franc, all cultivated biodynamically since inception.
Querciabella's vineyards provide ideal living conditions for billions of microorganisms in the soil but also for many wild animals such as endemic birds and insects. This leads to a natural state of balance above and below the ground that translates into great vitality in its wines.
100% BIODYNAMIC | ORGANIC | VEGAN
There is no use of chemicals, fertilizers or pesticides, creating a welcoming environment for the existence of beneficial insects and birds that assist the natural viticultural practices.
Querciabella exemplifies the mindful preservation of tradition through forward-thinking, completely natural, winemaking. The low-yielding vines produce grapes known for their concentration and richness. The addition of dry-farming enhances the intensity of the fruit and the expression of the terroir.
"Through biodynamic viticulture, we celebrate the nature and history of our terroir and we respect and exalt the quality of its fruit." - Sebastiano Cossia Castiglioni