Vineyard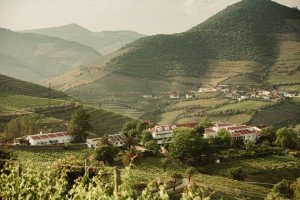 Vineyard Overview
Ramos Pinto owns 90% of the vineyards that supply their winemaking needs, making it close to an "estate" grown property. In the Douro Valley, this is the largest proportion of vineyard ownership in relation to production, giving it a high degree of control over viticultural methods and harvest time.
The four quintas or estates that make up Ramos Pinto's holdings are the Quinta do Bom Retiro, Quinta de Ervamoira, Quinta da Urtiga, and Quinta dos Bons Ares. Ramos Pinto blends single quinta ports from Bom Retiro and Ervamoira grapes, and a single quinta port from Urtiga.
The Quinta de Ervamoira was the first quinta in the Douro where, in contrast to tradition, individual vineyard blocks were planted with a single variety, selected for the grape's most appropriate soil and climate.