Story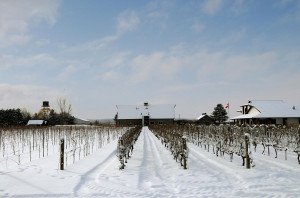 Brand Overview
Though Icewine's roots can be traced to centuries old German winemakers, there is nothing more quintessentially Canadian than this luscious luxury borne of patience and sub-zero bravura. Grapes are left on the vine well into the winter months to concentrate and intensify the flavors, as water content freezes, thaws and dehydrates in each precious Icewine grape.
Ideally suited to the Canadian winter season in both the Niagara Peninsula and the Okanagan Valley, the magical process of crafting Icewine is guided by nature — triggered by the snap of the wintry elements, the harvest can't begin until temperatures drop below minus eight degrees Celsius for a sustained period of time.
Inniskillin produced its first Icewine in 1984 with harvest dates ranging as early as December 2nd and as late as March 5th. There are rigorous specifications regulating the making of Icewine set out by Canada 's quality control and appellation of origin system, the VQA (Vintner's Quality Alliance). Artificial freezing of the grapes is strictly prohibited.
Inniskillin Icewine is well renowned as the world leader in Icewine. It is sold in over 74 countries and is the #1 distributed wine in Global Travel Retail. It can be found around the world on the wine lists of famous restaurants and hotels, in collector's cellars and on many major airlines.