Vineyard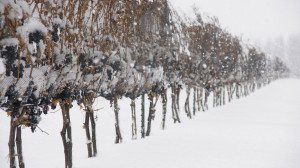 Vineyard
Originally developed in the cool-climate regions of Europe, the production of Icewine is ideally suited to the climate conditions of Canada's Niagara Peninsula. Soils on the Niagara Peninsula are generally deep and obtain a considerable amount of essential minerals from different types of bedrock. The moderating effect of Lake Ontario and the Niagara escarpment creates a unique microclimate whose relative mildness allows for the growing of Vitis vinifera grapes. Icewine is produced from French hybrids such as Vidal (the 1989 Inniskillin Icewine award winner) as well as Vitis vinifera grapes which include Riesling and Cabernet Franc.
The Growing Season
April: The vines bud.
May–June: The main period of growth which sees flower formation and bloom set.
July: Growth slows and the fruit becomes clearly visible.
August: Veraison, the stage at which the unripe grapes begin to change colour and their sugar content begins to increase.
September–October: Grapes ripen but a left untouched on the vines under a cloak of protective netting.
November-January: Repeated freezing and thawing causes the grapes to dehydrate, thus concentrating the sugars and acids in the juice, and intensifies flavor.