Winemaking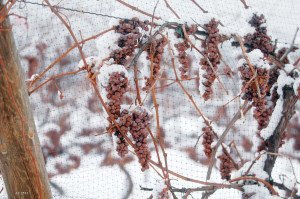 Winemaking
Harvesting and Pressing
The grapes, having already reached full ripeness in October, are left untouched on the vines under a cloak of protective netting until the first deep freeze of the Canadian winter. The harvest takes place between December and January, between 10°F and 8°F. The grapes are either hand-picked or machine harvested in their naturally frozen state, usually during the night. Despite the protective netting, wind damage and ravaging birds can further reduce the very low yields.
After the frozen grapes have been destemmed and crushed, they are pressed while still frozen – the winery doors left open to maintain the sub-zero temperature. The water in the juice remains frozen as ice crystals during the pressing, and only a few drops of sweet concentrated juice are obtained.
Fermentation and Bottling
After racking, the clear juice is inoculated with a pure-strain yeast culture which is responsible for the primary fermentation that changes grape juice into wine. The juice ferments very slowly for several months while aging. It ceases fermenting naturally between 9 to 10% alcohol by volume. Much of the sugar is left unfermented and is typically around 250 g/l, finding a harmonious balance with acidity levels nearing 10g/l.