Winemaking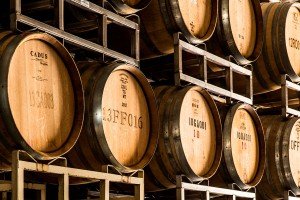 Winemaking Style
Domaine Anderson wines offer the best of both worlds: the richness of California fruit with the balance and elegance of a French wine.The wines are low-alcohol, balanced, and supremely elegant. Both the pinot noir and chardonnay wines are marked by an innate purity and curious depth.
At harvest, grapes are picked by hand and transported immediately in small lots from vineyard to winery, where they are sorted by hand and juice is gently extracted using a hydraulic basket press. Wood and stainless steel open-top fermentation tanks are used to achieve precise extraction of fruit structure and color. Slow malolactic fermentation further defines structure and enhances the clarity of site-specific aromatics for the pinot noir wines. The traditional practice of battonage, or gentle hand stirring of the wine while it is in tank, provides balance to the chardonnay wines and helps give them the desired flavor and texture.
Domaine Anderson uses only carefully selected French oak barrels sourced from Burgundian cooperages. The winemaking team carefully tracks wine development and maturity, blending separate barrel lots for precise expression of fruit character. The attentive élevage—or barrel aging process—results in wines that are graceful and naturally complex.