Wine Enthusiast Wine Star Awards - 2022 Winner
Vineyard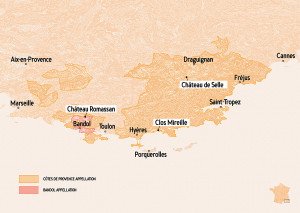 Vineyard Overview
With three estates in two iconic appellations, the Domaines Ott range characterizes the distinct Provençal terroirs from which it originates.
Château de Selle | Côtes de Provence
Château de Selle falls within the Côtes de Provence appellation, located inland on limestone hillsides, enjoying abundant sunshine. The proportion of stone in the soil is 40 to 50 percent, making it an arid soil and, despite the presence of some extremely fertile clay deposits, yields are low. Château de Selle has an area of 345 acres, of which 160 acres are planted. The average vine age is 22 years. Year after year, the cultivated area of the estate wins over part of the rocky terrain. The earth is mechanically tilled while retaining a natural balance, the original proportion of stone being maintained after crushing. The crushing process is carried out on a yearly basis.
Clos Mireille | Côtes de Provence
Clos Mireille is an ancient terrain distinguished for its combination of schists and clays, and by an absence of limestone. The vineyard's proximity to the sea explains the inimitable character of the wines produced at Clos Mireille. The microclimate and sea spray create the ideal conditions for the production of extremely rare wines. Clos Mireille has 124 acres of planted vineyards, with an average vine age of 17 years.
Château Romassan | Bandol
Château Romassan is located in the Bandol appellation and lies at the foot of the village of Le Castellet. The soil is poor, composed of limestone, sandstone, and marine upper cretaceous marls. The Bandol appellation is known for its terraced landscapes built from the hard stone with vines, which are planted into vast terraces with varying exposures. The average vine age is 14 years. The sea air from the bay of Bandol compensates for the terroir's acidity and low rainfall. The winery is located on 148 acres, which are fully devoted to wine production. Cultivation methods are traditional and the soil is mechanically tilled and young shoots are trained with the greatest care to the plant.